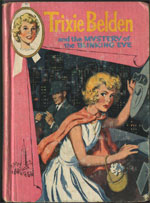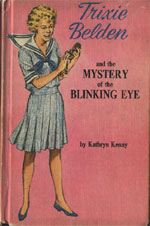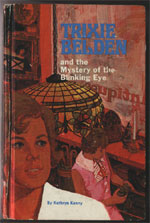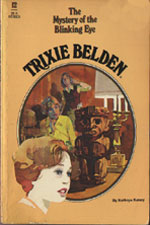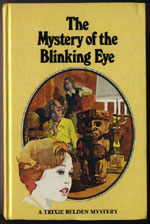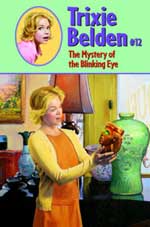 "Great headed man, with blinking eye,
A shaded road, a horse's cry,
Foreign words for all to hear,
First clue is now so very near.
Watch out for thieves; they're everywhere,
At home, on island, dead beasts' lair.
Where shines a beacon 'cross the sky,
Beware great danger lurks close by.
Be not misled by evening's fun;
A villain's work is never done.
When guitars play, thieves linger 'round,
But not till later are they found.
Twin rails of steel, a trembling square,
Watch close, you'll see the guilty pair.
A lonesome journey, gleaming gun,
Foolish girl, what have you done?
Great-headed man does prostate lie,
A bright stone in his blinking eye.
All is not lost, though, little friend;
Rejoice, for peril, danger end
Near silver wings, past river's bend.
Fortune is yours, fit for a king,
And hearts of little children sing."
The Mystery of the Blinking Eye
Title :
Trixie Belden and the Mystery of the Blinking Eye
Author :
Kathryn Kenny
The ghost writer of this book is unknown, but could McDonnell have written this? She did her nurse's training in New York.
First Published :
1962
Chapter Titles :
1. A Strange Beginning
2. Good-Luck Piece
3. The Paper Prophecy
4. A Treacherous Trip
5. "It Isn't Any Joke!"
6. "The Idol is Worthless!"
7. Break-In
8. Wrong Number
9. A Queer Coincidence
10. Trapped!
11. Showstoppers
12. Close Call
13. Dr. Joe
14. A Mysterious Call
15. Trixie's Secret Meeting
16. Lost Forever
17. The Big Search
18. The "Obvious" Answer

Setting :
New York City, New York.
Synopsis :
An ugly wooden Incan idol purchased impulsively by Trixie, leads her, the Bob-Whites and their friends into adventure and danger, prophesised by a Mexican fortune teller, as three men try to get the idol back. As the group explore exciting New York, Trixie tries to uncover the mystery of the Blinking Eye and is amazed at how the fortune teller's prophecy comes true when she cracks an international jewel smuggling case.
Characters :
Trixie Belden
Jim Frayne - newly adopted son of the Wheeler's
Honey Wheeler - Trixie's best friend
Brian Belden - Trixie's eldest brother
Mart Belden - Trixie's "almost twin" brother
Diana Lynch - Bob-White and neighbour
Dan Mangan - Regan's nephew and a Bob-White
Miss Trask - manager of Manor House but a friend and chaperone to the Bob-Whites
Mr Wheeler - Honey's father
Ned Schulz - a friend of the Bob-Whites
Bob Hubbell - a school mate of Ned's
Barbara Hubbell - Bob's twin sister
Dr Joe Reed - a friend of the Bob-Whites and was the orthopedic surgeon for Di's brother Terry
Betty Reed - Dr. Joe's wife
Tex, Chris, Jeff and Nancy Reed - Dr. Joe's children
Evalinda - patient of Dr. Joe's
Betsy Tucker - ex-student from Sleepyside High and a guide at the UN
Mr Meredith - board member of Celebrity Broadcasting Company
Villains :
The jewel thieves who chased Trixie and the Bob-Whites through New York.
Pedro - a short, darkhaired man with deep olive skin who is beautifully dressed.
Blinky - small, stocky man with a scar running across his forehead, over his eyelid and down to his cheek.
Big Tony - tall man with a wrinkled, olive complexion
Points of Interest:
The events take place in mid-summer. The three Iowans are spending a few days with the Bob-Whites in New York, then going to Maine to stay with relatives, before going to spend some more time with the Bob-Whites in Sleepyside.
Ned is the same age as Jim and Brian (?) and Bob and Barbara are the same age as Mart.
Dan implies that he plays baseball (p. 16).
The Wheeler's apartment is in Central Park West.
Miss Trask is visiting a sick sister in a New York hospital every day. She can speak fluent Spanish and is capable of translating it so it rhymes!
The Bob-Whites meet their own "Mr Big" in New York. Mr Meredith is referred to as this by the usher at the television studio (p. 125).
Mrs Reed makes hamburger patties the same way as Helen Belden does (p. 155).
The three villains are somehow able to get seats in the television audience after following the group to the television studio, despite the doorman telling the group that the audience was full.