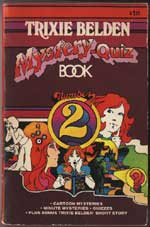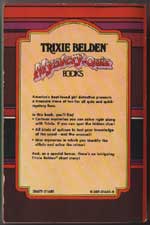 Mrs Newcomb explained to Nick what had happened and asked him if he could come to the Club building right away. "We're going to give Trixie special recognition, too, of course," she said. "We feel just terrible-"
It was the final humiliation. A "special recognition" to soothe her feelings! Trixie jumped up and ran out of the little office. A moment later, she was running down the street, sobbing bitterly in the cool October night.
It had been the most wonderful things that had ever happened to her, and now it was the worst. Everybody will be sorry for me and wonder how I could be so dumb as to believe I was an artist, she thought.
A tall building loomed in the dark ahead, and Trixie recognized the hospital. Inside it, she thought, there was one person who would know exactly how painful this disappointment was. Dabbing at her eyes, she turned into the lobby and got Marcy's room number at the front desk.
Upstairs, her friend lay so still that at first Trixie thought she was asleep. One leg, encased in plaster, was suspended at an angle, and her arm was heavily bandaged.
"Marcy? Hi. I just - I just wanted to tell you how sorry I am about - everything."
"Hi, Trixie." Marcy's voice was strained, its bubbling vitality drained away. "I thought you'd be getting your award now. One of us is having a good week, anyway."
"No, Trixie replied. "We're both having a bad one." She hesitated, telling herself that it had been a mistake to come, that Marcy didn't need any more bad news. But she couldn't stop now.
"The Case of the Two Winners," Trixie Belden Mystery Quiz Book #2, (p. 75-76)
Title :
Trixie Belden Mystery Quiz Book Two

Author :
Kathryn Kenny with Joan Bowden, Mary Carey, Eileen Daly, D. J. Herda, Betty Ren Wright and others.

First Published :
1980

Contents :


What Do You Know About Fighting Crime?


The Case of the Dominant Dame


The Case of the Uncertain Seating


Musical Mystery


Redheaded Thief (minute mystery)


The Kidnapped Camper (cartoon mystery)


Pirates and Pirate Treasure


Rodeo Clown (minute mystery)


Lost Letters


Hardheads and Suckers


Inscrutable Bedtime Stories


The Suspicious Professor (cartoon mystery)


Long-Lost Grandson (minute mystery)


Batter Up!


Quickie Quiz #1


Bafflers


Counterfeit Art


Little Boys Gone! (minute mystery)


Losers—and Winners


What a State!


Tongue Tanglers


The Missing Footprints (cartoon mystery)


Dining-Room Thief (minute mystery)


Missing Partners


Di's Memory Sharpener


Trixie's Hidden-Answer Quiz


Quiz for Cogitators


Poor Loser (minute mystery)


Help!


Animals—Storybook and Otherwise


The Stolen Horse (cartoon mystery)


The Fire (minute mystery)


About Horses


Soda-Pop Mix-Up


The Case of the Two Winners (short story)


Regan's Helper?


Famous Places in the United States


The Suspect in the Restaurant (cartoon mystery)


The Money Jar (minute mystery)


Doodlers' Noodlers


Crypto-Trixie


The Case of the Semicircular Suspects


The Case of the Phantom Shoplifter


The Holdup (minute mystery)


The Exchange Student (cartoon mystery)

Short Story Synopsis :
Trixie wins an art award and decides to donate the prize money towards buying some luggage for Marcy Jones, who made the finals in the Miss Black Teen contest. However, both girls dreams are destroyed when Marcy is the victim of a hit and run accident and Trixie finds that her poster is not the winner. Trixie must find the person who injured Marcy and overcome the disappointment of losing her award.

Characters (appearing thoughout the book) :
Trixie Belden
Jim Frayne
Honey Wheeler
Brian Belden
Mart Belden
Diana Lynch
Mrs Belden
Peter Belden
Bobby Belden
Dan Mangan
Sergeant Molinson
Mrs Boyer
Marcy Jones
Nick Roberts
Mr Crider
Jay Miller
Grace Newcomb
Ray Perkins
Paula Ratner
Regan
Mrs Wheeler
Mrs Turner
Mrs Forsythe
Larry Gibson
Mr Stratton
Hank Summers
John Baker
Larry and Terry Lynch
Pierre
Mario
Bob the busboy
Bob Hubbell
David Andersen
Bernie Judd
Mrs Pritchard
Mr Simpson
Gary Slad
Kim Tsu

Points of Interest:
Di does not appear in the short story as she is away with her in Bermuda to celebrate her parents' wedding anniversary.

The story takes place in October and the awards ceremony is on Thursday, 29th of October, which is a week after Brian's birthday. Marcy is due to leave for Los Angeles 'a week from Saturday' (p. 54) which is October 31. So it seems likely the story commences around the time of Brian's birthday, but this is never mentioned.