Julie Campbell
Julie Campbell was born on the 1st of June 1908 in Flushing, New York and shares the same birthday as her character, Mart Belden. As the daughter of an Army Officer, she travelled widely during her childhood and, at the age of eight, won her first short story contest while living in Hawaii.
Campbell married Charles Tatham Jr. on the 30th March 1933 and they worked together on many magazine stories and articles. Campbell lived in a remodelled farmhouse in the Hudson River Valley with her husband and two sons when she began writing the Trixie Belden series.
She had her own literary agency in the 1940s when Western Publishing invited literary agents to find authors who could produce mystery and adventure books that would be marketed to children at an affordable price. Campbell proposed four series, two that would be written by herself and the others by two of her authors Hal Burton and John Henry Cutler.
Both series were published under her maiden name, Julie Campbell. The Ginny Gordon series consisted of five books published between 1948 and 1956, while her contribution to the Trixie Belden series consisted of six books between 1948 and 1958. At the same time, Campbell stepped in to take over the Cherry Ames and Vicki Barr series and wrote twelve books in total for these series over the same time period. It is believed that Campbell wrote Cherry Ames, Cruise Nurse in three weeks during the same period she was also writing the first Trixie Belden and Ginny Gordon books.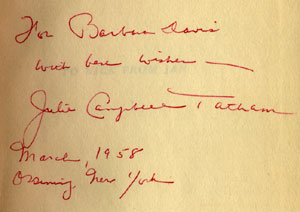 Campbell wrote the series under her married name of Julie Tatham. There are several similarities to the Trixie Belden series. Cherry Ames: Dude Ranch Nurse is set in Tucson, Arizona which is the setting of Campbell's last Trixie Belden Mystery. The last Cherry Ames book Campbell wrote in 1955, Cherry Ames: Country Doctor's Nurse, is set in Sleepyside-on-the-Hudson, the setting of the Trixie Belden mysteries. So is a wonderful book called To Nick from Jan, which has many similarities to Trixie Belden except the main character is almost 17 year's old.
She is also credited for writing "Rin Tin Tin's Rinty" for Whitman in 1954, but in an article I've read Campbell denies having written that book and wonders why Whitman credited her with the title.
The Trixie Belden series was set in "Sleepyside" but was based on the town Campbell was living in at the time in the Hudson River Valley near Ossining. Her home, "Wolf Hollow", was the model for Crabapple Farm and Campbell actually lived on Glendale Road.
After completing Trixie Belden and the Mystery in Arizona, Campbell decided to stop. Her experience as a literary agent assisted her in negotiating a royalty on the next six books of the series as she owned the characters, but it meant her giving up the originator rights to this series. Western Publishing decided to continue the books under the pseudonym, Kathryn Kenny.
Campbell also relinquished the Cherry Ames and Vicki Barr series when Helen Wells decided to return to writing them. The Ginny Gordon series was not continued.
There is evidence that Campbell sought a writing position with the Stratemeyer Syndicate in 1957. Timothy P. O'Herin spent an afternoon going through the Stratemeyer archives and found correspondence between Campbell and Harriet Adams, the daughter of Edward Stratemeyer.
"The letters occurred around 1957 and they consisted of Ms. Tatham seeking a writing position with the syndicate. Mrs. Adams responded with glowing praise for her work, but questioning whether Julie would want to relocate for the job. Julie indicated she would be willing to commute. There were only a few letters in this brief correspondence, and best of my knowledge no position was ever open to her at the syndicate. It was a brief correspondence and I suspect Harriet had no position to offer and was only being cordial in replying to her." - O'Herin, 1999.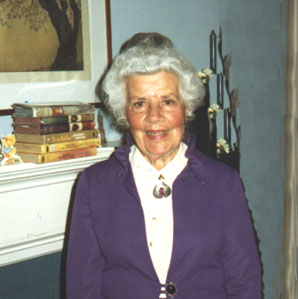 The correspondence occurred at the same time Campbell decided to stop writing for the various series she was involved in with Whitman. Perhaps Campbell was disgruntled with Western Publishing or saw more opportunity for success at Stratemeyer, but this is not clear.
Campbell is said to have written another book under the pseudonym of Jay Morris. She was living in an apartment building called Hunting Towers in Alexandria, Virginia until her death as a widow on the 7th of July, 1999 at the age of 91. Campbell was interviewed by the Washington City Paper, pushing her grocery cart down the street, early in the year of her death, about the building of new bridge that would mean the demolition of her apartment building. Even at 91 she was still spirited and determined, just like Trixie.
Click here to view a full list of books written by Julie Campbell Tatham.
Sources:
Trixie Belden "Schoolgirl Shamus" by James D. and Kimberlee Keeline
Trixie Belden and the Secret of the Mansion, 1959 dust jacket.
And other sources as quoted found through Internet research.